BLUESURFEST is a 3 day festival combining inclusive sporting events, music, film and educational events as part of a wider network of European Blue Surf Festivals happening across Europe in 2023. The events, targeted to raise awareness of inclusion in sport at local and regional levels, will highlight the benefits of surfing for physical and mental health and wellbeing. During Autumn 2023, 6 festivals will be hosted in "blue communities" from Spain, France, Germany, Ireland, Portugal, and Italy. The Irish event will take place between the 23rd and 25th of September 2023 in Co. Donegal. BLUESURFEST is a European project which is co-financed by the Erasmus + Sport Programme.
09:45 Blue Health Seminar
'The Power of Blue'. Followed by lunch. The Sandhouse Hotel, Co. Donegal.
17:00 Volunteer Training
Liquid Therapy's In-house Volunteer Training. The Sandhouse Hotel, Co. Donegal.
14:00 Beach Taster Classes
Join us for Surf, Yoga & Surf Therapy. Liquid Therapy Surf Centre, Rossnowlagh Beach.
20:00 Film Premier 'Shaper Series'
with Gearoid McDaid & Tides Surf Magazine. Eclipse Cinema, Bundoran.
14:00 Book Reading 'Ebb & Flow'
with local author Dr. Easkey Britton. The Sandhouse Hotel, Co. Donegal.
21:30 Tree House Live presents T. D. Narrative
The Kicking Donkey, Bundoran.
10:00 Liquid Therapy OPEN
Join us for a full day of inclusive surfing fun. Rossnowlagh Beach, Co. Donegal.
21:00 Trad Session
The Bridge Bar, Bundoran.
'The Power of Blue' Seminar – 23. 09. 23
The Sandhouse Hotel, Co. Donegal
'The Power of Blue', one of the highlights of the BLUESURFEST weekend, is a celebration of the healing power of the Ocean for Health and Wellbeing. A day of inspiring speakers will share their knowledge and experience about the Power of the Ocean and surfing for both Health and Wellbeing. This event is focused towards individuals and organisations who want to learn more about the opportunities and benefits of surf therapy in Ireland, including industry practitioners, this who work with children or families and other stakeholders.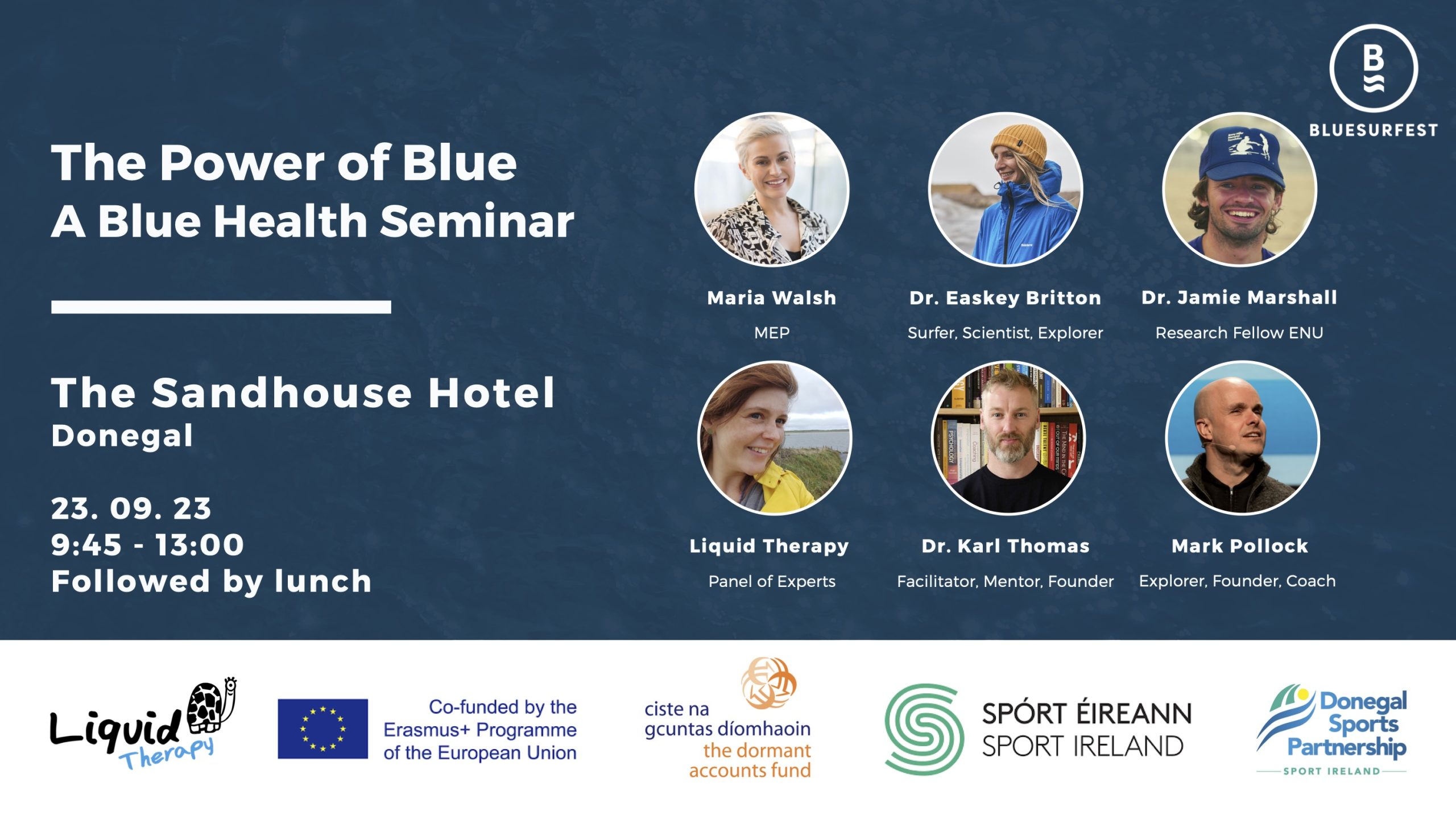 Places are limited, please book early to avoid disappointment. If you have any queries please contact the Liquid Therapy team on info@liquidtherapy.ie. 
NB: please note that both 'The Power of Blue' Seminar and the afternoon 'Taster Classes' are focused on adults to raise awareness of the benefits of surf therapy with a wider audience. For child focused inclusive surf programmes please visit the booking section of our website or keep an eye on our social media channels.